Browning's new X-Bolt Western Hunter rifle is not only handsome, but comes standard with features desired by hunters and long-range shooters alike. It comes in a wide variety of calibers and configurations. Also new from Browning is the Recoil Hawg muzzle brake, and it's here to gobble up all of your recoil.
Browning's New X-Bolt Western Hunter Rifle
The Browning X-Bolt Western Hunter is full of features. The stock is composite and wears an A-TACS AU Camo finish. The Sporter contour barrel is free-floated by bedding the front and rear of the action. There is also an X-Bolt Long Range model which comes with a heavy Sporter contour barrel, and keeps the 5/8″-24 TPI suppressor threads (and included thread protector). The X-Bolt's new three-lever Feather Trigger comes from the factory with a 3.5-pound pull, but is also screw adjustable from three to five pounds.
The X-Bolt also features Browning's X-Lock scope mounting system, which uses four screws per base; double the current standard. Built-in is the new Inflex Technology recoil pad, which relies on an internal skeleton. The concept is similar to crumple zones in your car. When fired, the skeleton collapses, diffusing the rearward force into your shoulder. On top of the bolt lever is the bolt unlock button, which allows the bolt to be manipulated with the safety engaged. Essential to comfort and performance, the comb height is adjustable. Widening your options for compatible scopes is a 60 degree bolt lift. MSRP ranges from $1,069.99 to $1,179.99, depending on the desired caliber.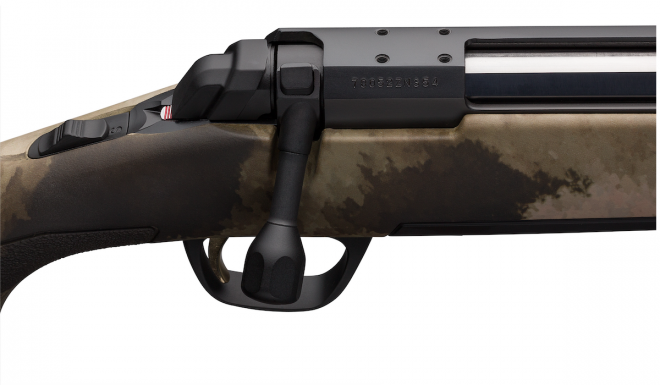 Available Calibers and Barrel Lengths
6.5 Creedmoor – 24″
6.5 PRC – 24″
270 Win – 22″
7mm Rem Mag – 26″
28 Nosler – 26″
280 ACKLEY IMPROVED – 24″
300 Win Mag – 26″
300 Rem UM – 26″
300 PRC – 26″
6.8 WESTERN – 24″
The Recoil Hawg Muzzle Brake
It's no secret that magnum calibers pack a wallop and an afternoon ringing steel behind a magnum rifle can be taxing. While zeroing your rifle with a few rounds before a hunt is tolerable, the rising popularity of long range shooting has made comfort and recoil control priorities.
Browning's response to the growing need for recoil control is a bit of a hog. Well, I should say Hawg. However, instead of eating up all of the crops in Texas, this hog is scarfing down recoil. According to Browning, the new Recoil Hawg eats as much as 77% percent of recoil, depending on the caliber. The claim is that it makes a 300 Rem UM feel like a 6.5 Creedmoor. The Hawg is made of steel and will fit most .30 caliber barrels (or smaller) with a 5/8″-24 TPI or a 1/2″-28 TPI threaded muzzle. The brake uses directional porting to blow gasses up and to the sides. This cuts down on recoil, as well as reducing the shooter's dust signature.
The Browning X-Bolt and Recoil Hawg are made to pair like fish and white wine. I usually don't make it to the fish part, but my wife tells me they're great together. If you'd like to learn more, head over to Browning's website. Don't forget to check them out on their Instagram, Pinterest, YouTube, Twitter, and Facebook.