The Winchester XPR series of rifles continues to expand with two new bolt-action rifles from opposite ends of the visible light spectrum. One rifle cloaked in darkness; the other ready to hide in the desert sun. Introducing the Winchester XPR Extreme Hunter Midnight MB and XPR Strata MB rifles.
Winchester XPR Extreme Hunter Midnight MB Rifle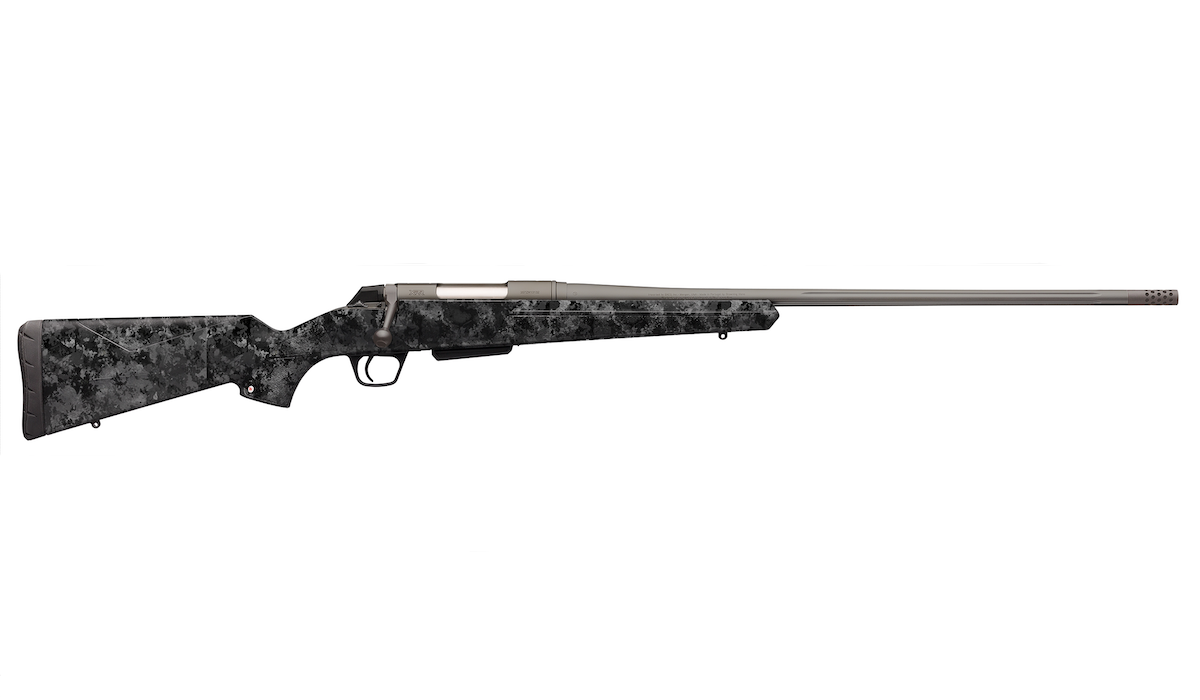 "Affirm your position at the top of the food chain. The Winchester XPR rifle is a step forward in design and manufacturing, bringing you a high-performance hunting rifle at an extremely affordable price from a name you know and trust. Pairing the performance of the XPR with TrueTimber Midnight camouflage gives you a lethal advantage."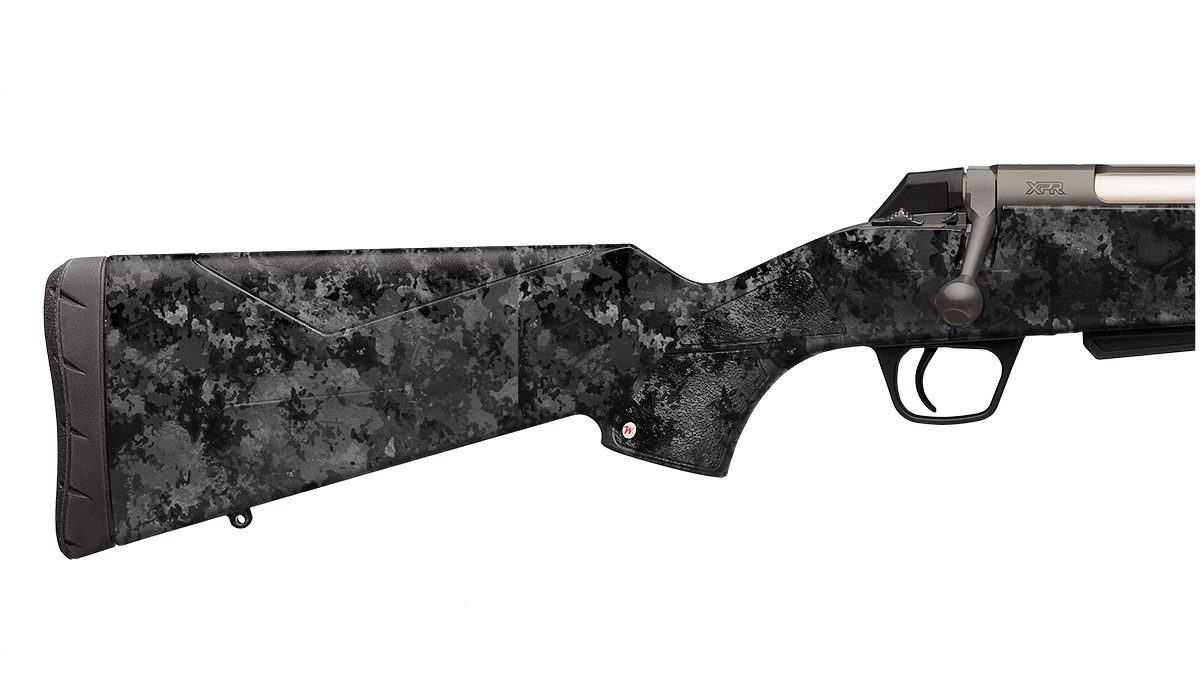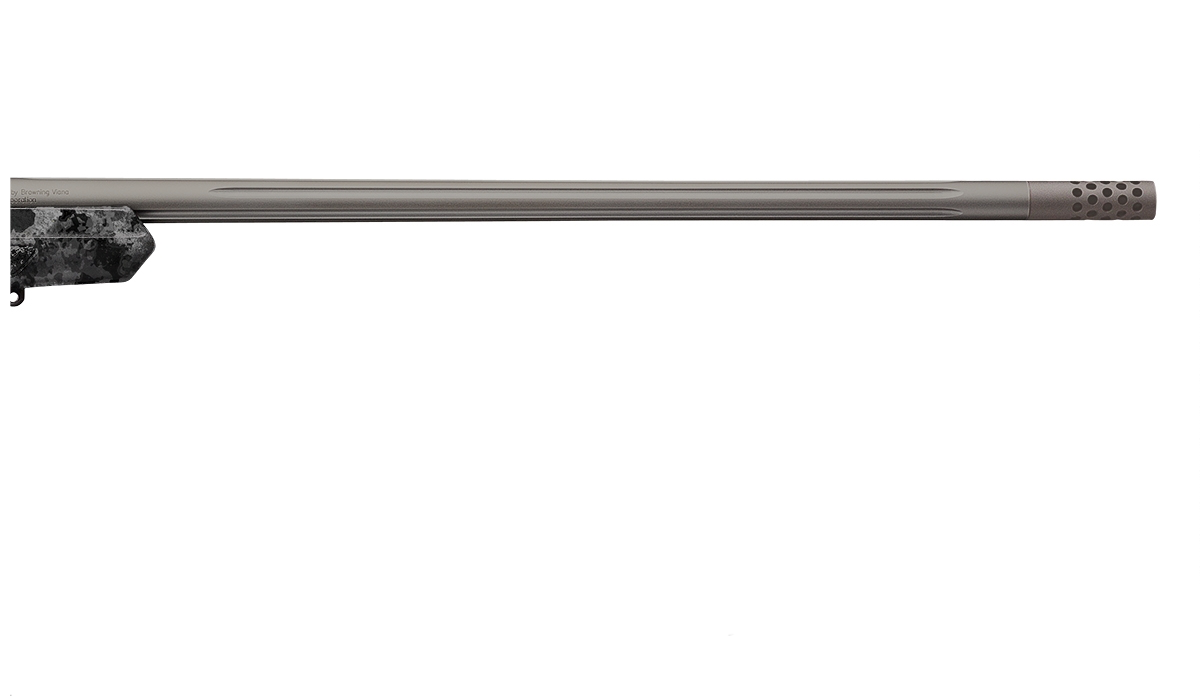 The Winchester XPR Extreme Hunter Midnight MB rifle has a wide array of features that fans of the brand have come to expect. The striking nature of the rifle's aesthetic is thanks to its composite stock draped in the new TrueTimber Midnight camouflage pattern. With just enough contrast to compliment the stock, the barrel and receiver show a Cerakote Tungsten finish. The button-rifled barrel is fluted to save weight and is free-floated. The rifle ends in a 9/16″ x 24 threaded muzzle, and comes with a radial-style muzzle brake installed. Sling swivel studs are present at the front and rear of the stock. Winchester opted to use the Inflex recoil pad to tame the recoil of a few of the more potent chamberings.
The XPR uses the M.O.A Trigger system. It also features a bolt unlock button, which allows you to work the bolt, even with the two-position thumb safety engaged. The receiver is drilled and tapped for scope mounts, and the rifle feeds from a detachable box magazine. The MSRP is $749.99.
XPR Strata MB Rifle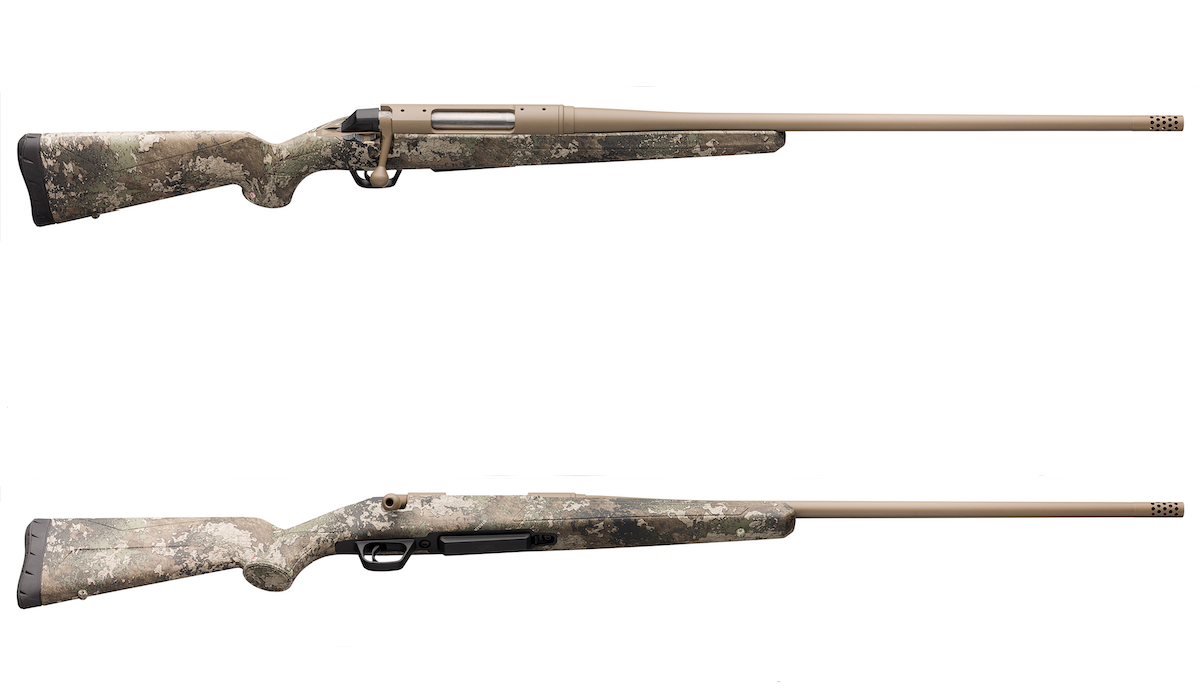 "The value-loaded line of Winchester® XPR rifles continues to expand with the addition of the new XPR Strata MB.

The XPR has an established reputation of excellence and this model builds on the proven record of accuracy and reliability."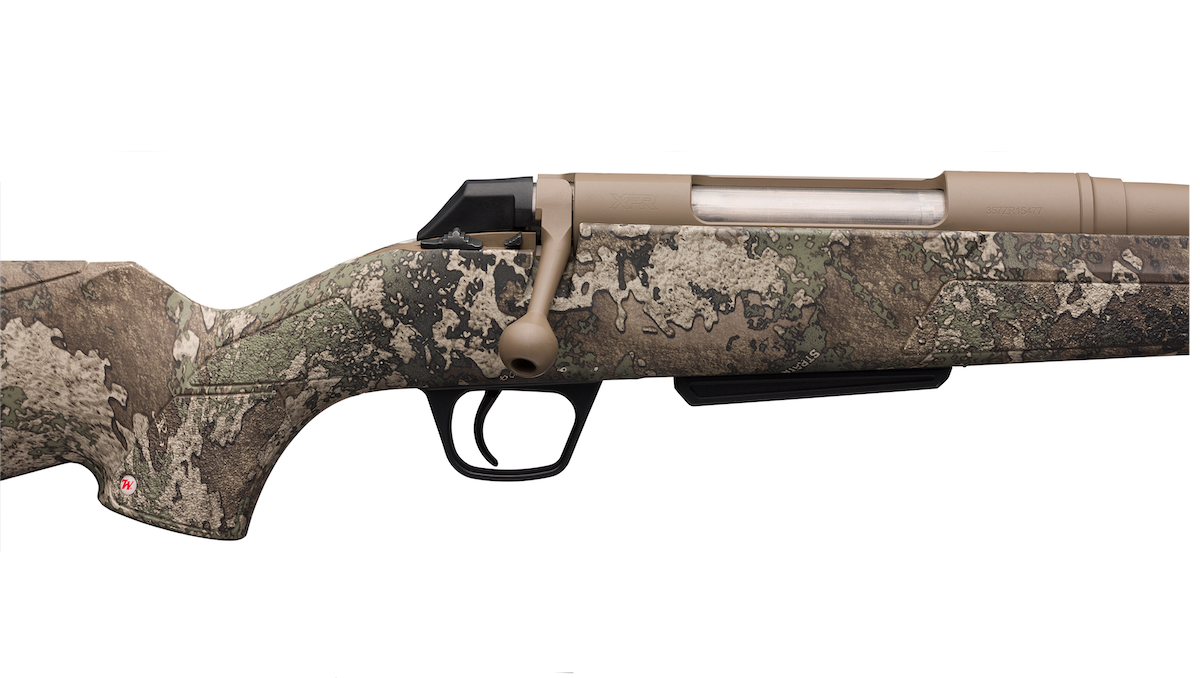 If the desert is your hunting ground, you might be looking for a different finish on your rifle. The Winchester XPR Strata MB shares a majority of its features with the XPR Extreme Hunter Midnight MB, but with one major difference. The stock is covered in TrueTimber Strata camo. The receiver and barrel wear a Perma-Cote Flat Dark Earth finish. The MSRP is $719.99.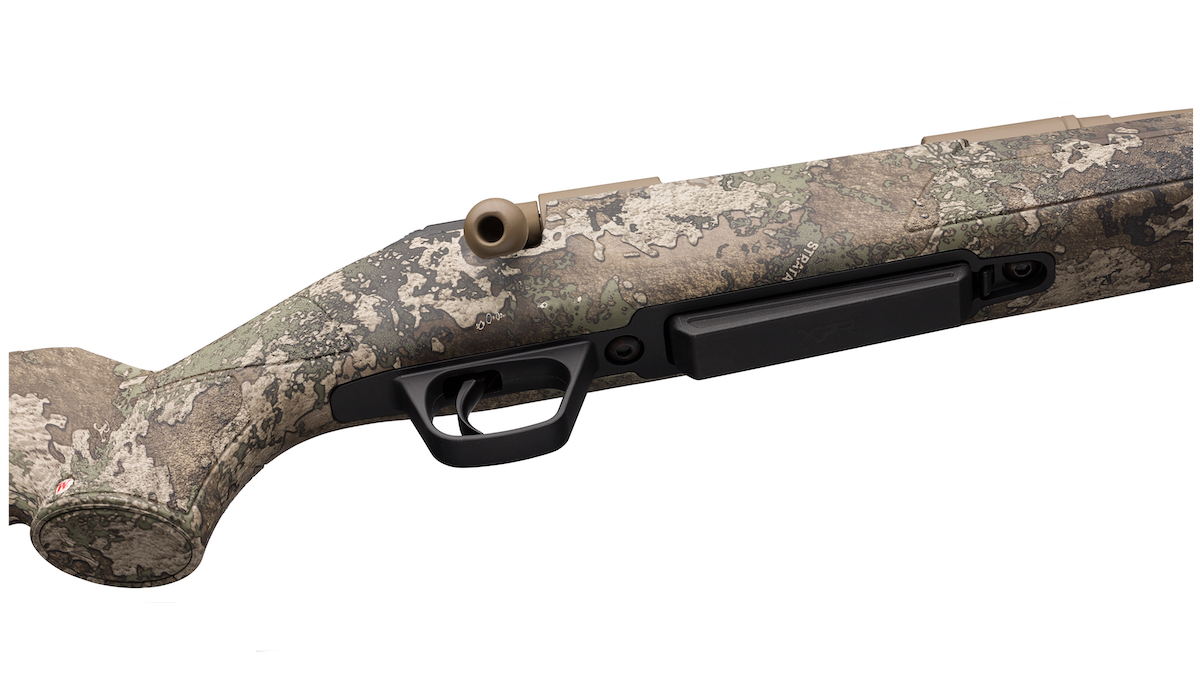 Both rifles come in the following configurations:
223 Rem – 22″
243 Win – 22″
6.5 Creedmoor – 22″
7mm-08 Rem – 22″
308 Win – 22″
350 Legend – 22″
6.5 PRC – 24″
6.8 Western – 24″
270 WSM – 24″
300 WSM – 24″
270 Win – 24″
30-06 Spfld – 24″
7mm Rem Mag – 26″
300 Win Mag – 26″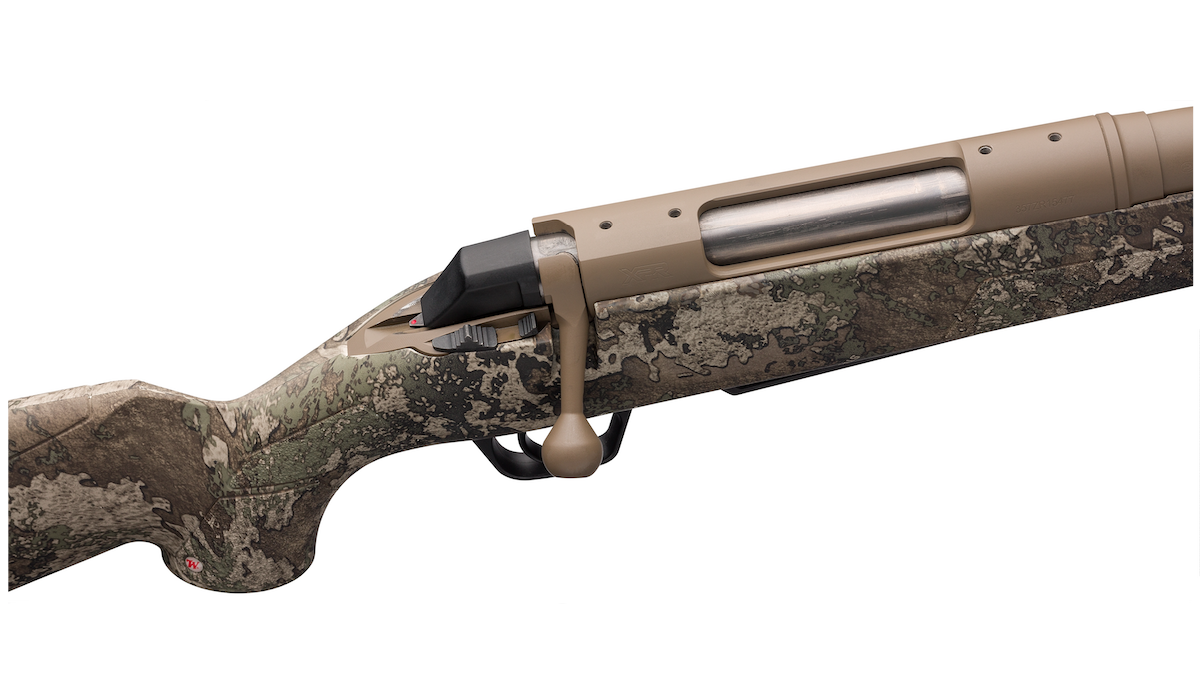 Head over to Winchester's website for more details and offerings. Make sure to follow them around (well, on the internet) as they post on their Facebook, Twitter, YouTube, and Instagram pages.