Many hunters and clay shooters like to camouflage their guns. However, some of us have a flair for the dramatic. The Browning Maxus II Sporting Carbon Fiber shotgun is exactly that; bold and loud. With a hydrodipped carbon fiber aesthetic, it adds a layer of durability for high-volume, sporting clay shooters and also kicks up the curb appeal while you are standing at the firing line making ready for your next series of clay pigeons.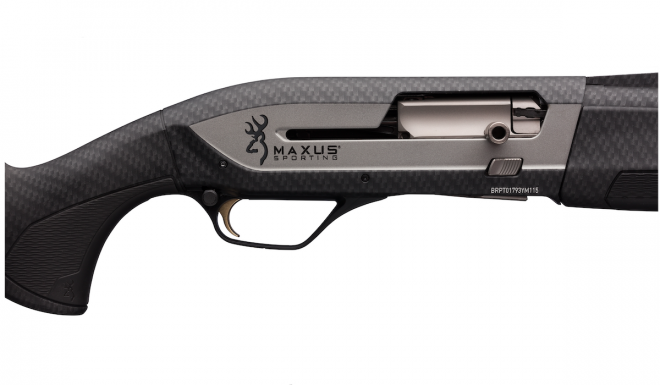 "With superior shooting comfort, a great trigger and intuitive handling, there isn't a better autoloading shotgun for sporting clays than the Maxus II. Just don't let the sleek hydrodipped carbon fiber finish and modernized styling trick you into thinking this is a shotgun only for the range. The Sporting Carbon Fiber is ready to swing onto clay targets, waterfowl and upland birds with equal ease."
The Maxus II Sporting Carbon Fiber – Dripping in Carbon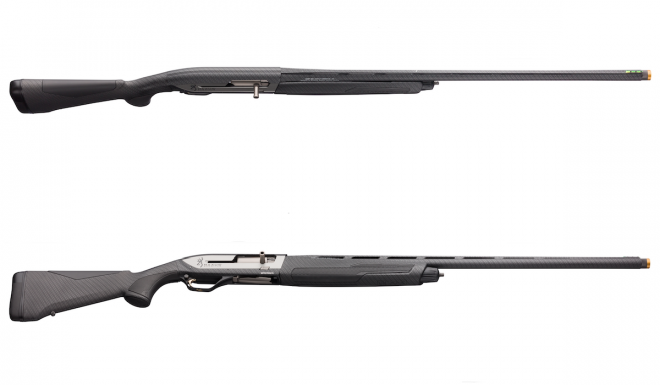 Just like the other Maxus II shotguns, the Maxus II Sporting Carbon Fiber shotgun is built on the Power Drive Gas System. Unlike the other models, this shotgun features a hydrographic dip carbon fiber finish and a new styling on the receiver with satin finish flats. Length of pull can be shortened or increased using the included spacers. Shims allow the shooter to customize the cast and drop at comb. A new SoftFlex cheek pad is paired with a 1-1/2″ thick Inflex Recoil Pad to keep you comfortable through a whole day of shooting. There is rubber overmolding added to the stock and forearm to improve traction, and the forearm uses a screw-on style cap to aid in disassembly. The trigger guard is ramped and controls are oversized for use with gloved hands.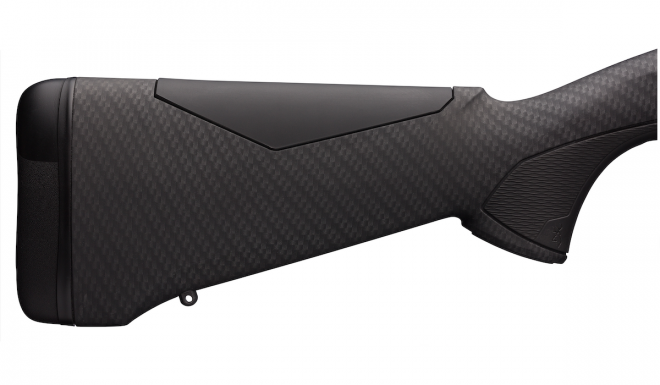 The barrel is topped with a HiViz Tri-Comp fiber-optic front sight and ivory mid-bead. The Invector-Plus Choke Tube System comes standard. The box includes five Midas Grade extended choke tubes (Full, Modified, Improved Modified, Improved Cylinder, and Skeet). A lightweight magazine tube is used to reduce the overall weight of the gun, making swinging onto targets quicker.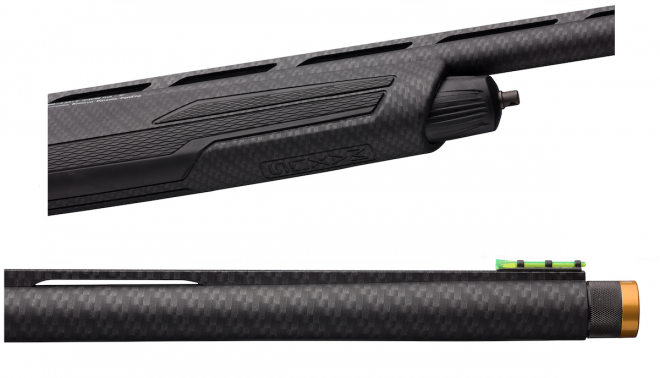 If the looks of the regular Maxus II are too boring for you, this one is definitely louder. The MSRP of the Maxus II Sporting Carbon Fiber is $1859.99. It's available with either a 28″ or 30″ barrel. If you want to look at other visually-pleasing shotguns, head over to Browning's website. Make sure you follow them on Instagram, Facebook, Twitter, Pinterest, and YouTube while you're at it.