If you spend time outside or work as a first-responder, 5.11 Tactical makes just about every piece of gear or clothing that you might need. Even if you don't, they even offer casual apparel and footwear for everybody. They make clothing for men and women and in every size you could need. Below you'll find some additions for 2021 to 5.11 Tactical's lines of men's and women's apparel.
"5.11, Inc., the global innovator of purpose-built gear, has revealed new packs, apparel, footwear and accessories to be launched in Spring and Fall 2021. The 2021 product line includes all-new items along with updates to previous product offerings for outdoor
adventurers and tactical enthusiasts alike.

5.11's brand mantra, Always Be Ready, has never been more relevant than it is today. In 2021, 5.11 supports this core message with products that enhance customers' ability to stay healthy, prepared and self-reliant."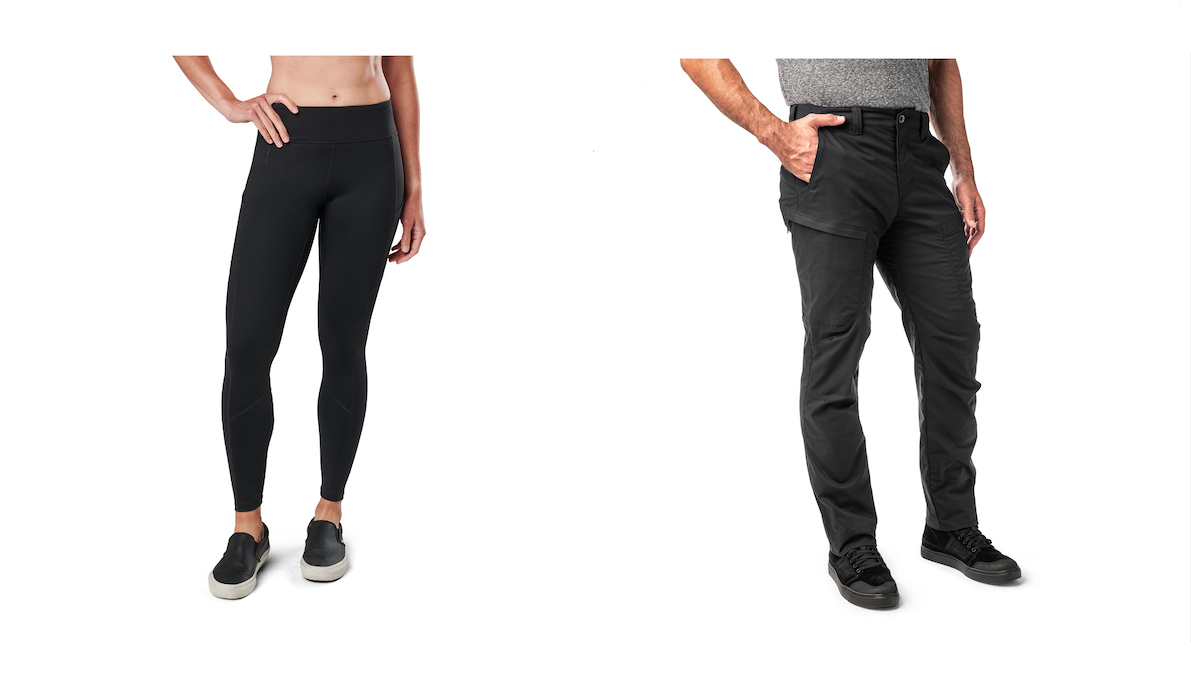 The A/T Series Featuring 5.11's A.T.L.A.S. Technology
5.11's All Terrain Load Assistance System (A.T.L.A.S.) Footwear collection is getting an update in 2021. Now called the A/T series, the line is expanding to include the A/T 6 Non-Zip Boot and the A/T 6 Side Zip Boot (MSRP: $154.99). Both boots use 5.11's Echo and Force foam midsole. They also utilize the A.T.L.A.S. plate for added stability while carrying a substantial weight burden.
The image above is of the A/T 8 HD (MSRP: $179.99). It also takes advantage of the A.T.L.A.S., but adds a new heat-deflecting leather and internal reflective strobel sock. The strobel sock helps to reduce the heat coming from the ground. If you've ever worn boots in California or Arizona, you'll understand why this matters.
The Low-Top Norris Sneaker
If you're a fan of the original High-Top Norris Sneaker (colors expanding to include coyote, storm, Multicam, dark navy, black/woodlands camo, and black/white) these will feel familiar. While maintaining the same level of quality and durability, the Low-Top Norris Sneaker has a more casual, streetwear look. They will be available this Fall in black/gum and dark coyote. MSRP is $94.99.
Not looking to disappoint, 5.11 continues its trend of durable pants with plenty of low-profile and hidden pockets. This year they're releasing their Flex-Tac polyester/cotton canvas, DWR treated Ridge Pant (MSRP $84.99).
Also new is the Decoy Pant. Using zippers, the Decoy can be converted from pants to shorts. Also using a DWR finish, they provide 50+ UPF protection and eight pockets. That sounds like plenty of sunscreen storage for when you want to cut those pant legs loose. MSRP is $84.99. For those of you willing to let it all hang out, the famous Commando Kilt will also be available in Multicam this Spring. MSRP is $94.99.
The Defender Flex uses stretch fabrics and reinforcements in high-wear areas to keep your shorts looking fresh. They will be available in the Spring. MSRP is $59.99.
Ideal for amphibious activities like fishing, or being thrown in a pool at your birthday party, the Trail Short is finished with a quick-dry, DWR finish. They are an 87% polyester, 13% elastane plain weave with Enduro-Flex. MSRP is $69.99.
5.11 has expanded their Icon line to include the Icon Short. To protect them from abuse, the shorts have been given a Teflon finish. Made of stretch fabric, these also feature eight pockets. MSRP is $69.99.
5.11 is expanding both their men's and women's apparel. New for the women's pants line in 2021 is the Shella Pant. They are made of a polyester/elastane, 4-way stretch Enduro-Flex fabric. They feature front, rear, and cargo pockets for the women who need pockets that are actually large enough for function. The cut is straight fit and the pants have a DWR finish. MSRP is $69.99.
The Kaia Tight
One of the most desirable features for women when it comes to athletic wear is pockets. Well, if you want pockets, 5.11 is kind of known for that. Also new to the women's pants line is the Kaia Tight. They feature dual side pockets and a hidden interior waistband pocket for cash, ID, or whatever else you might need. They use flat-locked seams to increase comfort, and also take advantage of 5.11's reflective heat transfer, moisture-wicking, anti-odor technologies. MSRP is $59.99.
The Marksman Short Sleeve
Pictured above, the Marksman Long Sleeve has been so successful, 5.11 decided to release the Marksman Short Sleeve. Short on sleeves doesn't mean short on features. The Marksman Short Sleeve still offers 50+ UPF protection, button-up styling, and moisture-wicking technology. It sports underarm mesh gussets to keep you from getting too ripe, and two chest pockets for storage. MSRP is $54.99.
99 Cans of Beer and the Wanderer
5.11 is releasing two new novelty prints, expanding their Vent-Tac technology offerings. They are the 99 Cans of Beer Short Sleeve Shirt and the Wanderer Short Sleeve Shirt (pictured above). The MSRP for both is $64.99.
The only difference between the Tessa Full Zip and the Tessa 1/4 Zip is personal preference. Both are made with a polyester/elastane jersey fabric made to wick moisture and prevent odors. They also both feature a front kangaroo pocket with an internal mesh pocket. MSRP for either is $69.99.
Durability and comfort in mind, the Nora short is made of 98% cotton and a 2% elastane stretch twill blend. Other features include dual back utility pockets, endure-flex pocketing, and a comfort stretch waistband. MSRP is $49.99.
5.11 Tactical offers a whole lot more than just men's and women's apparel. Take a look at their website to see it all. Make sure to follow them on YouTube, Facebook, Twitter, and Instagram.