Precision rifle shooting has been the main home of the 6.5 PRC (Precision Rifle Cartridge). If you can land hits where you want them on a target with a 6.5, why not while hunting? The .264 caliber bullet is known for flying at breakneck speeds and keeping a flat trajectory. Delivering around 250 feet per second, the 6.5 PRC is a real contender for a new favorite hunting caliber. Expanding the hunting ammunition line used by Steven Rinella and his crew, Federal has introduced the MeatEater Trophy Copper 6.5 PRC.
"Extract maximum performance from your favorite cartridge with Federal Premium® Trophy® Copper, the official rifle ammunition of MeatEater's Steven Rinella. The loads provide pinpoint accuracy and aggressive expansion, yet the copper, polymer-tipped bullet retains up to 99 percent of its weight for deep penetration on a wide range of medium and big game."
New to Federal – MeatEater Trophy Copper 6.5 PRC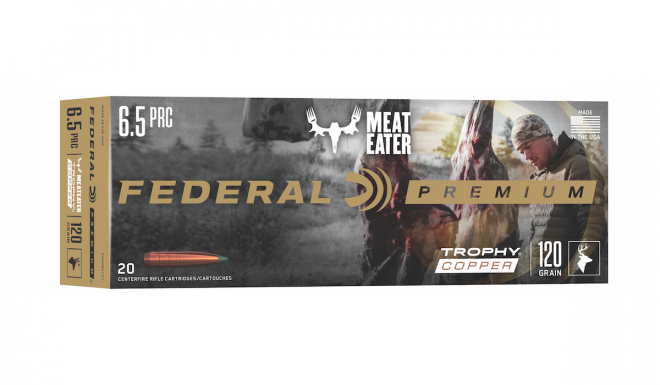 Caliber: 6.5 Precision Rifle Cartridge
Weight: 120-grain
Rounds per box: 20
MSRP: $49.99
One of the most important things to hunters (I hope) is ethical kills. A round with this much oomph is sure to do the job. Another consideration for hunters is the use of lead. Some hunters steer away from lead because it's…well, poisonous. Others, however, have local restrictions to contend with. States like California restrict hunters to non-lead bullets. These bullets are copper, allowing them to be used in those areas.
If 6.5 PRC is already your jam, or if you're looking for a new caliber to fill your freezer, take a look at Federal's new MeatEater Trophy Copper 6.5 PRC. If you want to learn more or to see other non-lead options from Federal Premium, check out their website. Follow along on social media for more updates. Federal is on Instagram, Twitter, YouTube, and Facebook. Happy hunting!