Shotguns have been a primary means of self defense for many people for a long time. While this has been a controversial topic in the last couple of years, there is no doubt that the shotgun is a formidable weapon. To offer a shotgun load targeted toward personal defense, Federal Premium has collaborated with the National Rifle Association. Together, they created the NRA Edition Premium Personal Defense Buckshot.
"Make the threat scatter, not the pellets. Federal® has teamed with the National Rifle Association on this special-edition buckshot load equipped with the rear-braking FLITECONTROL® wad."
Federal's New NRA Edition Premium Personal Defense Buckshot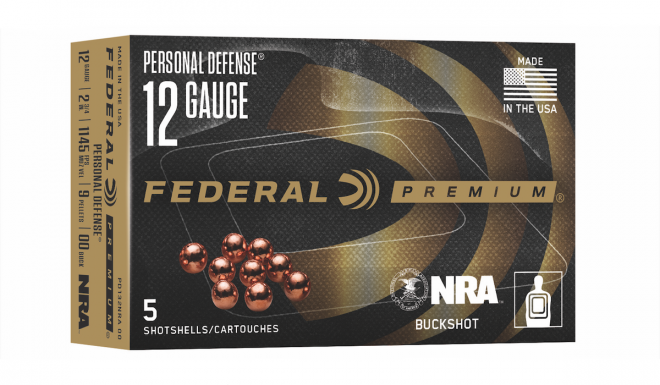 New for 2021, this 12 Gauge special edition NRA load sends nine pellets of 00 buck down the barrel. It uses Federal Premium's special FLITECONTROL wad to improve patterning. The shells also use buffering to stop deformation of the nine pellet payload. Each pellet is copper-plated and flies from the 2 3/4″ hull at 1,145 feet per second. A portion of the profits from the boxes sold will be donated to the National Rifle Association to help with legal battles in support for gun rights.
Specifications
Gauge: 12
Size: 00 Buck
Shell Length: 2 3/4″
Shells per box: 5
MSRP: $9.99
At two dollars a shell, I wouldn't recommend firing two shots in the air to scare any intruders. If you use a shotgun for home defense, head over to Federal Premium's website to check out these and plenty of other options. Make sure you're following along on social media as well. Federal can be found on Instagram, Twitter, YouTube, and Facebook. Stay safe and make sure you train, train, train with your defensive weapons. Stay tuned for more new products for 2021 from Federal Premium. If you're not a member of the NRA and would like to join, you can do so through their wesite. As always, let us know all of your thoughts in the Comments below!