Finding the right ammunition for your hunt is an important task. With each gun being an individual, I find that having more ammo options is always better. Upland bird hunters who are familiar with Federal Premium's Upland Steel line will notice something new on their website. Federal has added two 12 Gauge shell options to the line, both with 1 Oz payloads.
"Make your day in the dove field even better with new 1-ounce Federal® Upland Steel offerings. High velocities powered by clean-burning propellant and Federal primers maximize the patterns and power of the steel payload."
More 12 Gauge: Expanding the Upland Steel Line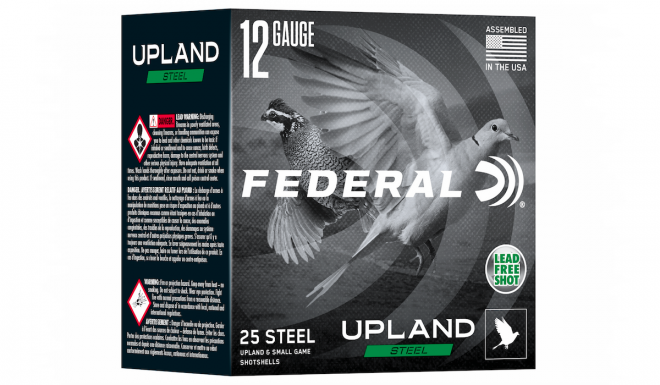 As the name implies, the pellets in these shells are made of steel instead of lead. Lead-free shot can be important for a variety of reasons, making this an appealing option to many hunters. These two NEW 12 Gauge options deliver a 1 Oz payload. This is a departure from the 1 1/8 Oz 12 Gauge options already available. Meant for upland birds, these can be had with either #6 or #7.5 pellets. The mix of high-quality steel, Federal primers, and clean-burning propellant should make for a high yield hunt and an all-around good time. Upland Steel shells are also available in .410 Gauge, 28 Gauge, and 20 Gauge.
Gauge: 12
Length: 2 3/4″
Weight: 1 Oz.
Pellet size: #6 or #7.5
Shells per box: 25
MSRP: $12.99
If taking upland game is your kind of hunt, and you'd like a steel shot option, these shells are made for you. Find out more by visiting Federal Premium's website. If you're interested in other kinds of hunting loads, see what else Federal has to offer while you're there. Remember to also follow along with their new products and other information on their social media pages. Federal is active on their Instagram, Twitter, YouTube, and Facebook pages. Happy hunting, everyone. I bet it's gonna taste great, and as always, share with us your thoughts in the Comments below!